I Am Not Tom Pope You Are All Tom Pope
Tom Pope was Archisle International Photographer in Residence 2015. As our third Photographer in Residence and recipient of the Archisle Residency Award Pope produced a new body of work in Jersey during the summer of 2015. His solo exhibition I Am Not Tom Pope You Are All Tom Pope was presented at The Old Town Police Station, Royal Square, St Helier in September 2015. To view an online gallery and a short film about the project please visit the following link.
Atlantus
Atlantus is a transoceanic photography project between Martin Toft and the Archisle Project. Prompted in part by the 350th anniversary in 2014 of Sir George Carteret naming of the State of New Jersey after Jersey his island home in 1664, the project asks how two places that share a name on opposite sides of the Atlantic Ocean perceive each other within archives and cultural memory? Atlantus tells a story in which estranged lands of incomparable scale come together in poetic gestures that ask us: what's in a name?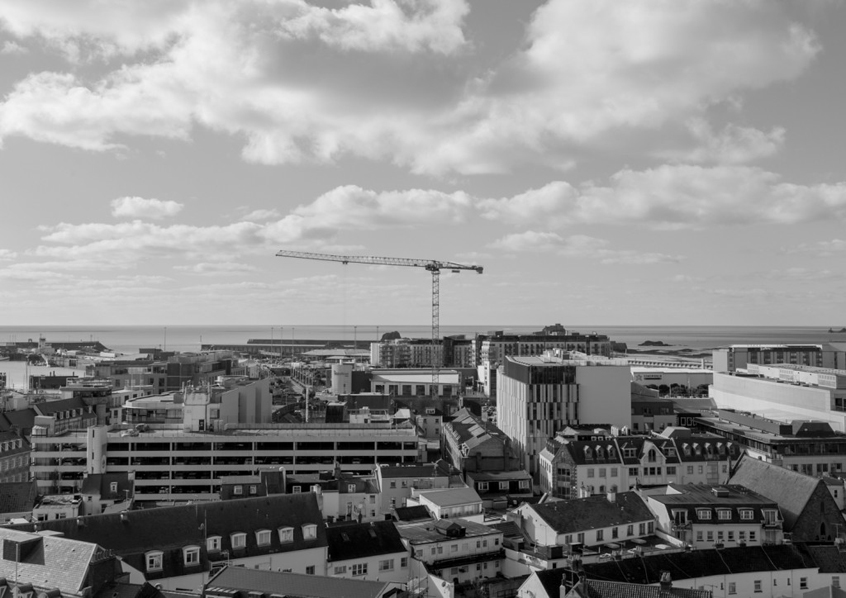 View towards the Waterfront and the construction of Jersey's International Finance Centre, St Helier, Jersey, 18 February 2016
Photograph from Masterplan – A Visual Record of Finance. Click on the image to visit masterplan.je.